VETA is a non-profit society for safety research by traffic professionals.
The Swedish acronym means Science and Experience in Traffic safety Work.
---
The emergency braking capability of 66 ordinary drivers has been investigated
in experiments on icy and snowy surfaces for three winter weeks in Sweden 1995.
The text below is translated from a report in Swedish (summary in English) with 24 figures on 36 pages released at the end of 1995.
Abstract in Swedish: Referat på svenska
---
Clicking on the image will enlarge and display it separately for downloading.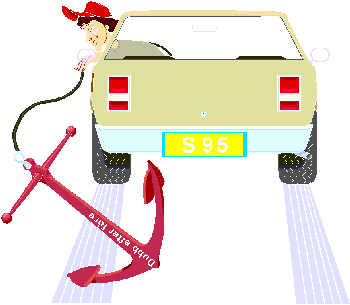 Refer to the report as follows

VETA is not yet prepared for large scale distribution.
Therefore, it may be necessary to ignore E-mail orders, even if they are adequately submitted to order @ veta . se

An invoice of SEK 100 plus postage will be enclosed.
---
Method
For three winter weeks it was studied how ordinary drivers manage emergency braking on slippery winter road surfaces.
The four test cars (Volvo 850) were equipped with:
9different types of tyres (both new and worn types of summer tyres, studded and stud-less snow tyres);
ABS brakes with disconnectable antilock function.
On a private airport in the northern Dalecarlia province, three straight but slightly inclined test tracks were prepared with:


varying snow/ice surface;


ice surface being polished since no studded tyres were allowed on it (cleaned from snow);


ice surface made harsh by studded tyres and also without snow.
The drivers' instruction was to stop the car from suburban cruising speed on a distance as short as possible without running off the marked lane.
Speed reduction was measured with stationary light barriers (photocells).
The 66drivers (24women and 42men) participated voluntarily without salary in 22 three-hour sessions.
The testing order was varied between drivers, in order to distribute changes in road surface conditions and in driver capability between the different types of tyres and ABS-configurations.
Results
Superior control with ABS
Though the test track was straight and wide like a normal lane, the car ran off the 'road' in 94 of 706 tests without ABS.
With ABS in function, only one driver failed once to remain on the road (1of 707tests).
ABS and braking performance
The average deceleration was greater with ABS than without for all 24combinations of tyres and road surfaces.
However, many individual tests on the A-track resulted in greater deceleration when wheels were locked-up digging themselves down in the loose snow to a level with greater adhesion.
A short braking distance is not always favourable, though, when the car has left its lane.
Substantial differences between vehicles
On the harsh ice track (C), the average deceleration with Used Summer tyres and No ABS was less than 50% of that with New Studded snow tyres and ABS switched on.
In a situation where both cars start braking from the same point, this corresponds to the inferior car having three quarters left of the initial speed where the superior car has stopped completely.

Clicking on the image will enlarge and display it separately for downloading.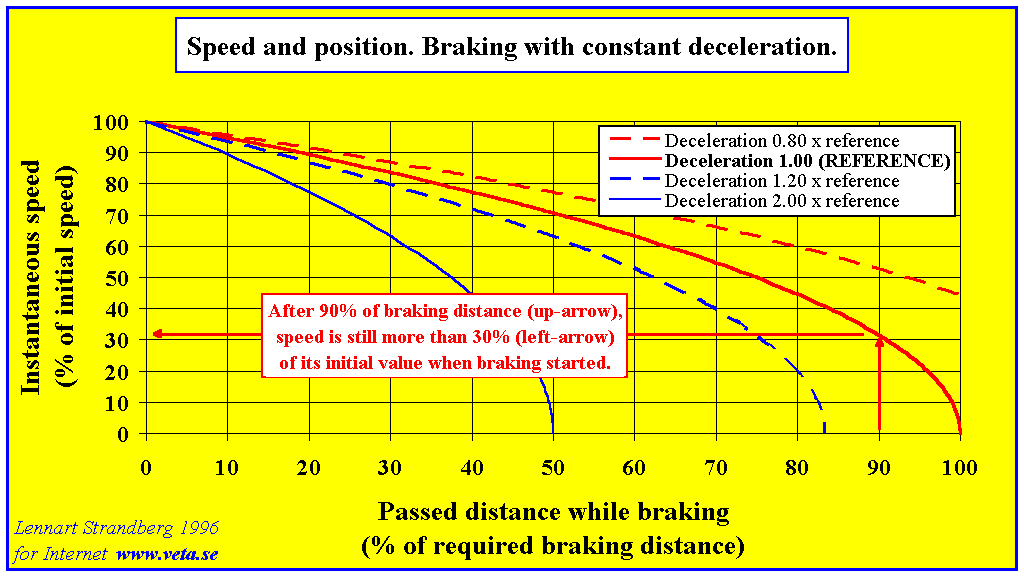 The best and the worst braking performance on each track and each session were very different. A time lag of three seconds between the cars would have been sufficient only in three or four out of 66cases, if the best car were to be braked in front of the worst one from 70km/h (44mph). Then, the driver reaction time is assumed to be 1second.
Fifty per cent of the 66cases required a 70km/h queue time lag of more than 7seconds. If differences are similar between individual cars in urban traffic queues cruising at 50km/h (31mph), the gap must be greater than a whole block: 5seconds or 70meters.

---
Transferred to VETA website with ACKNOWLEDGEMENT
to the Swedish sponsor of the investigation:
Skyltfonden
administered by Vägverket at Borlänge
Phone no. +46 - 13 75000


© Lennart Strandberg
Charter Chairman of the non-profit VETA society
Email: l s @ stop . se
---
URL= http://www.veta.se/abs66ice.htm
Access no.
since August 11, 1996. <! cabs66ice (=108 on 960810) and cabs66is confused on 960602. Both zeroed on 960811 >
Email on web-related topics: webmaster @ veta . se
---
Web-site www.veta.se access no.
since 30 April 1996


---